The cleanliness of your parking area may not seem like a big deal, but you should remember that this is the first area of the business that a customer will see. With that being said, it is easy to understand why your lot should be clean, well kept, properly marked, and swept on a regular basis. Not only does this make your business look more inviting to potential customers, it also will help to maintain their safety by preventing trips and falls and other accidents.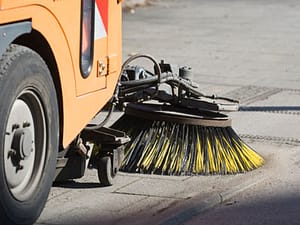 Here at Omaha Landscape Design we will do all that we can to help you achieve a well kept lot. We offer parking lot sweeping, street sweeping, line and striping services, snow removal, and regular lot maintenance. We offer competitive rates and free initial consultations. We offer flexible contracts for your convenience. With us, you will have the ability to choose from a weekly, monthly, or annual based contract. With us in charge of keeping your lot clean, there will be no need for you to worry about anything. We will even perform our sweeping services overnight so that we will not be a bother to your or your customers.
If you are looking for the perfect company to keep your parking lot in a safe and clean state, Omaha Landscape Design is the perfect choice for your needs. Give us a call with any questions that you may have or if you would like to schedule a free consultation.