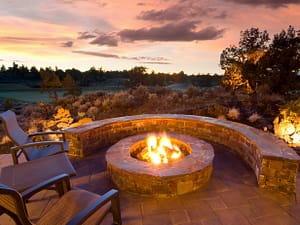 We have been getting a lot of calls lately about outdoor fire pits.  Fire pits (whether they are gas, propane, or natural wood burning) have become really popular in the Omaha area over the past few years. Omaha Landscape Design can install a wide variety of fire pits – contact us for a free consultation and quote. If you are on a tight budget, you may consider building a fire pit on your own. We don't recommend building a natural gas or propane fire pit yourself – it can require a much more technical installation involving permits, plumbing, and more.
If you want to install a natural burning fire pit, we've compiled a list of online sources that will assist you.
Build Your Own Fire Pit – This Old House
Build Fire Pit – YouTube.com
DIY Fire Pit Installation – YouTube.com
Build Your Own Backyard Fire Pit – Instructables.com
8 Easy-To-Build Fire Pit Designs – DIY Network
How To Build a Fire Pit and Grill – DIY Network
Quick and Easy Fire Pit – Lowes.com
If you have a small budget, you may want to consider a manufactured fire pit.
If building your own outdoor fire pit sounds to intimidating, let us do it.  Contact Omaha Landscape Design at (402) 290-2181.